#MeetArtist: Pianist Kotaro Fukuma – online concert via Zaiko on Sat., April 10!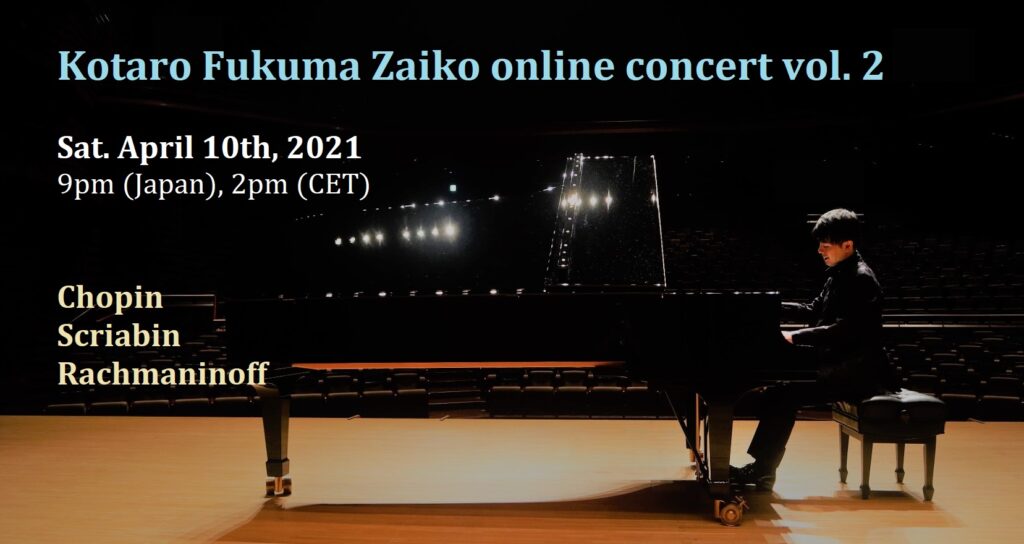 Online piano concert by pianist Mr. Kotaro Fukuma, who has participated in Plovdiv 2019 (Bulgaria) will be held this weekend, Saturday, April 10, from 9pm (JST). Check out the details below!
★Message from artist★
Since my European concerts of Kotaro Fukuma from February to May this year have been canceled or postponed, I decided to give an online concert via Zaiko. The performance was pre-recorded at the Kashiwazaki City Cultural Center Art Forêt in February, which has wonderful acoustics.
———————————————————————————–
♪ Kotaro Fukuma  Zaiko Online Concert Vol.2 
Time & Date: 21:00 (JST), Saturday, April 10
Program (about 1 hour):
Chopin: Nocturne No. 5 Op.15-2, Fantaisie Impromptu Op.66, Variations Brillante Op.12
Takemitsu : Litany (1989)
Scriabin: Piano Sonata No. 10 Op.70
Rachmaninoff: Piano Sonata No. 2 in B flat minor Op.36 (1931 version)
https://kf-zaikolive.zaiko.io/_item/338500  
———————————————————————————-
You can watch it 3 days long (71 hours) after the stream.
Please enjoy it!
Kotaro Fukuma
---
プロヴディフ2019(ブルガリア)にも参加したピアニスト、福間洸太朗氏によるオンラインコンサートが開催されます!今週末4月10日(土)21時から。詳細は下記をチェック!!
★アーティストからのメッセージ★
今年2月から5月の私の欧州公演は中止・延期となったため、欧州で披露できなかった新しいプログラムを有料配信という形でお届けすることにしました。演奏は、響きの素晴らしい柏崎市文化会館アルフォーレで事前収録したものです。
———————————————————————————–
♪ 福間洸太朗 Zaiko オンラインコンサート Vol.2
日時:4月10日(土)21:00~
演奏曲目 (約1時間プログラム):
ショパン:ノクターン第5番 Op.15-2、幻想即興曲 Op.66、華麗なる変奏曲 Op.12
武満徹:リタニ(1989年)
スクリャービン:ピアノソナタ第10番 Op.70
ラフマニノフ:ピアノソナタ第2番 変ロ短調 Op.36 (1931年版)
*2月20日 柏崎市文化会館アルフォーレにて収録
https://kf-zaikolive.zaiko.io/_item/338500  
———————————————————————————–
配信後3日間は見逃し配信の視聴が可能です。
どうぞお楽しみください。  
福間洸太朗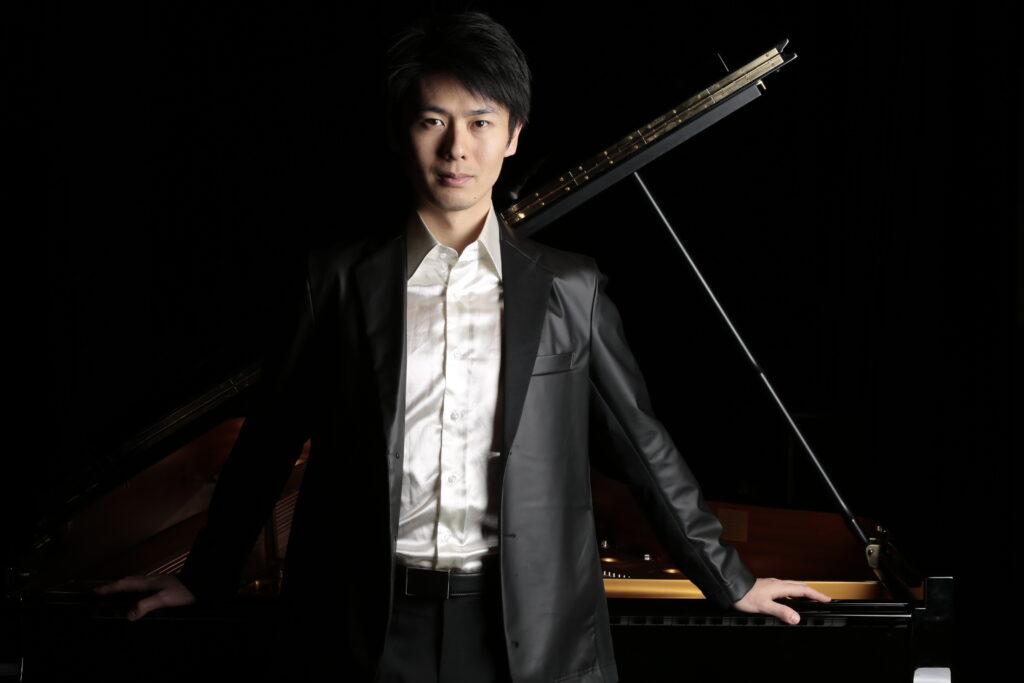 ©Marc Bouhiron