#MeetArtist: MICO MAI solo exhibition "Floral Fantasy"
A solo exhibition by artist MICO MAI will be held as the first art event of the Four Seasons Hotel Tokyo Otemachi's first anniversary. Please come and visit!
Solo exhibition "Floral Fantasy"
Date: 28 Sep. – 6 Oct. 2021
Venue: 39th floor of  Four Seasons Hotel Tokyo at Otemachi 
<Related programs>
◆Art Tour:1, 2, 4 Oct. 2021 / 13:00~17:00
*Art tours will be given as needed depending on the time you arrive.
◆Live Talk Event from Four Seasons Hotel Tokyo Otemachi: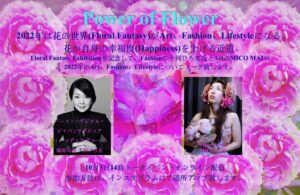 "The Art of Flowers will Move 2022" New Trend by Leading Women's Magazine Editor-in-Chief and Artist MICO MAI
The editor-in-chief of a leading women's magazine and artist MICO MAI will talk about Art, Fashion, Lifestyle and trends for 2022.
If you missed the live broadcast, please watch the edited version later on the same channel!
*Registration: http://www.parisclub.gr.jp/event/2021-10-03-1-2.html
*Distribution channel: https://www.youtube.com/channel/UC1_S0SiVSh__xdbUtr-B7Nw
【Message from the artist】
Love & Happy with Flower
Please enjoy the Performance Paintings created by MICO MAI to bring happiness to the world with the energy of flowers.
---
アーティストMICO MAI氏による個展が、フォーシーズンズホテル東京大手町1周年初のアートイベントとして開催されます。皆さま、是非お運びください!
個展『Floral Fantasy』
会期:2021年9月28日(土)〜10月6日(水)
会場:フォーシーズンズホテル東京大手町 39階ロビーフロアー
<関連プログラム>
◆アートツアー:10/1 (金)、 2 (土)、 4 (日) 13:00~17:00
お越しいただいた時間に応じアートツアーを随時行います。
◆フォーシーズンズホテル東京大手町より生配信トークイベント:
    時代をリードする女性誌編集長と芸術家MICO MAIの ニュートレンド『アート・オブ・フラワーが2022を動かす!』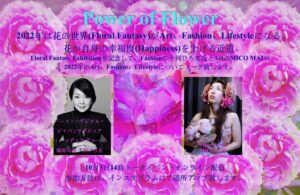 9月28日~10月6日フォーシーズンズホテル東京大手町にて開催される個展 『Floral Fantasy』を記念し、Art, Fashion, Lifestyle, 2022年のトレンドについて、お届けいたします。
生配信を見逃された方は後日同チャンネルから、ぜひ編集版をご覧ください!
日時:2021年10月3日(日) 14:00~
申込先:http://www.parisclub.gr.jp/event/2021-10-03-1-2.html
配信チャンネル:https://www.youtube.com/channel/UC1_S0SiVSh__xdbUtr-B7Nw
【アーティストより】
Love & Happy with Flower Floral Fantasy (花の世界)に導かれ人々が本来持っているLove & Happyを取り戻す。
MICO MAIが花のエネルギーで、世界にHappyを届ける為、制作したPerformance Painting(作品)をぜひお楽しみください。
https://www.youtube.com/channel/UC1_S0SiVSh__xdbUtr-B7Nw
Instagram: https://www.instagram.com/mico_mai/
Meet Up Profile: https://eu-japanfest.org/meet-up/artist/profile/600