#MeetArtist: Piano & Dance Film "YELLOW" by Sayoko Kawano (Piano) and Misato Shimizu (Dance)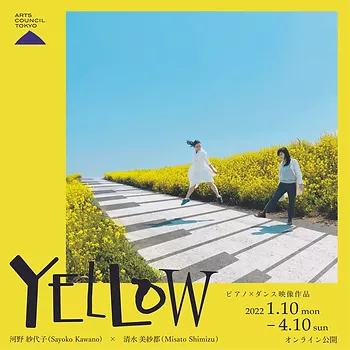 Piano & Dance Film "YELLOW"
Sayoko Kawano (Piano)   Misato Shimizu (Dance)
10 Jan. ~ 10 Apr. 2022 (Online Streaming)
★Message from artist★
"YELLOW" is a film which described the various faces of the colour "Yellow" with original piano music and contemporary dance.
"YELLOW" will be released online from 10th January 2022 to 10th April 2022.
What kind of impression do you have of the colour "Yellow"?
The warm and vibrant colour of rape blossoms and sunflowers.
The colour which warns you like railroad crossings or traffic lights.
Asian(=Yellow race) hate is a serious issue for us as Japanese.
In the film industry, "Yellow filter" effect, which adds a yellow filter on the scenes when they describe a poor or disputed area, is gaining attention.
In this film, we suggest a new "Yellow" by describing various faces of the colour yellow with original piano music and contemporary dance.
From "It Was All Yellow" we presented in the theatre in November 2021, we added video effects and scenes shot on the yellow locations over a year.
We recreated the work as a film in which you can experience the more yellowy world.
【DATE & TIME】
10 Jan. (0:00 JST) ~ 10 Apr. 2022 (23:59 JST)
*Streaming Online (YouTube – Unlisted)
【Ticket】
1,000 JPY (approx.  9.00 USD / 7.00 GBP / 8.000 EUR) Available on the online store.
Online Store:https://misatoshimizudance.stores.jp/
*For foreign customers, we recommend you to use PayPal as the system often does not accept credit cards issued outside of Japan.
You can download an online ticket which has a URL for the video streaming.
Supported by Arts Council Tokyo (Tokyo Metropolitan Foundation for History and Culture)
---
『YELLOW』ピアノ×ダンス 映像作品
河野紗代子(ピアノ) 清水美紗都 (ダンス)
2022年1月10日(月祝)~4月10日(日) オンライン公開
★Message from artist★
オリジナルピアノ音楽xコンテンポラリーダンスの映像作品『YELLOW』
「黄色」という色の多面性をピアノとダンスで描いた映像作品。
1月10日~4月10日オンライン公開。チケット発売中。
「黄色」という色にどんな印象を抱くだろうか?
太陽や星、菜の花やひまわりの元気で温かい色。反対に、踏切や信号、標識など危険を喚起する色。日本人には、黄色人種=アジア人ヘイトの問題があり、映画界では、紛争や貧困地域の描写に黄色い色を映像に重ねる「イエローフィルター」も近年問題視されている。
本作では、「黄色」が持つ多面性をオリジナルピアノ音楽とコンテンポラリーダンスで切り取り、全く新しい「黄色」を提案する。
1年の歳月をかけて黄色い風景を追い求めたロケーション撮影と映像ならではの演出。劇場で上演した『すべて黄色だった。』をベースに、より黄色の世界に浸れる映像作品『YELLOW』へと生まれ変わった。
【DATE & TIME】
2022年1月10日(月祝)0:00より オンラインで映像公開
(4月10日(日)23:59まで視聴可能)
【TICKET】
1,000円 (オンラインショップにて発売中)
オンラインショップ:https://misatoshimizudance.stores.jp/
​クレジットカード(VISA, MasterCard American Express,  JCB, Diners)、銀行振込、コンビニ決済、キャリア決済、PayPal、楽天ペイ​で支払い可能。
1月10日まで→公開日までに作品のURLをメールにて送付。
1月10日以降→オンラインチケットのURLからご視聴可能。
パソコン、タブレット、スマートフォンなどでご鑑賞可能。
​
助成:公益財団法人東京都歴史文化財団 アーツカウンシル東京【スタートアップ助成】
Website: https://www.misatoshimizu.com/yellow
(配信はYouTube限定公開)
MeetUp Profile: https://eu-japanfest.org/meet-up/artist/profile/442