Upcoming event! 3 Mar. in Tokyo!
3 Mar. 2020, we have the event European Capitals of Culture Presentation & Networking 2020 /vol.8 Powered by PechaKucha !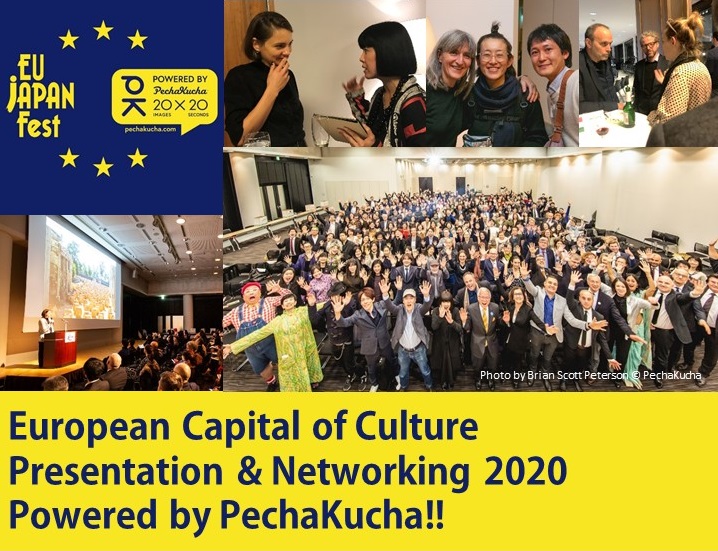 "Good occasion to meet people exchange the ideas and information."
"Very friendly and open gathering."
European Capitals of Culture (ECoC) is a truly global cultural project where artists from 100 countries are participating. The representatives of the European Capitals of Culture will come to Tokyo to meet artists in Japan and introduce their creative projects!
Although each city has the same title of "European Capital of Culture," each city sets its own theme and programs, reflecting its cultural profile and history.
ECoC is composed of several flagship programs including diverse projects with local and international artists. They seek information about the artists to work with.
Please feel free to join us!!
Date: 3 Mar. (Tue.) 2020
Time: 16:00 (Start) 15:30 (Door open)
Venue: Bellesalle Iidabashi-ekimae (Tokyo)
https://www.bellesalle.co.jp/shisetsu/iidabashi/bs_iidabashi/access/
★RSVP from here
https://forms.gle/jgp2oeCrDouVnnoz5
When you come with your friends, please register one by one.
★Notice
To make this event more eco-friendly, we do not hand over the printed materials (ex. time table) at the event. At the same time, we kindly ask you to use this site to upload your portfolio instead of bringing the printed materials.
Your portfolio must be written in English, as this website expect English-speaking visiter!
欧州文化首都プレゼンテーション&交流会 2020/ vol. 8 Powered by PechaKucha 3月3日開催!
世界100か国からアーティストが集まる欧州文化首都(European Capitals of Culture, ECoC)。各都市代表者が来日し、それぞれの魅力あふれる取り組みをご紹介します。
同じ「欧州文化首都 (European Capital of Culture)」というタイトルを持ちながらも、各都市はそれぞれの歴史・文化背景にもとづいて独自のプログラムをつくりあげます。
そのため各欧州文化首都は、それぞれのテーマにそってアーティスト情報を求めています!! 本プレゼンテーションは、各都市のテーマやプログラムについて知り、代表者と直接コミュニケーションをとる絶好の機会です。ふるってご参加ください!
日程:2020年3月3日(火) 16:00開始(開場15:30)
会場:ベルサール飯田橋駅前(東京)
https://www.bellesalle.co.jp/shisetsu/iidabashi/bs_iidabashi/access/
★参加申し込み
下記のフォームよりお申込み下さい
https://forms.gle/jgp2oeCrDouVnnoz5
一名ずつ参加申し込みが必要です。
★お知らせ
本イベントをエコ・フレンドリーなものにするため、紙資料は配布いたしません。同時に、参加アーティストのみなさまには、ご自身のポートフォリオを本ウェブサイト上に登録するよう、お願いいたします。
本ウェブサイトは、アーティストの皆様と欧州文化首都の現地主催者が直接つながることができることを目指しています。ポートフォリオ、メッセージについては、すべて英語(または日英併記)でご登録ください。