#MeetArtist: Online Germany Lieder Class & Masterclass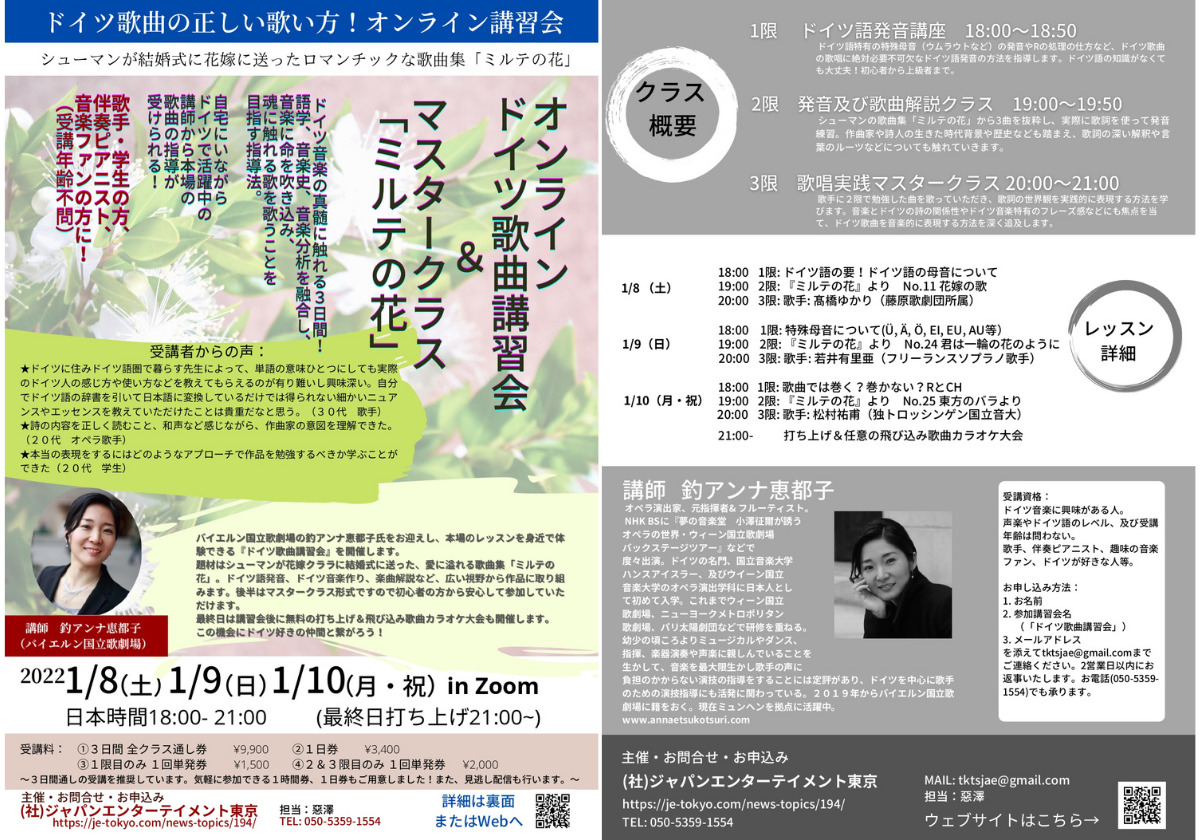 Munich-based Opera Director Ms Anna Etsuko Tsuri will hold the Online Germany Lieder Class & Masterclass in January! The workshop will focus on the many aspects of German songs including pronunciation. It will be in Japanese, but she has other classes in English too. Please also check out the details of her pages!
★Message from Artist★
The "German Lieder Workshop" by Anna Etsuko Tsuri, a member of the Bavarian State Opera, is now available online, allowing you to experience authentic lessons close up.
This is a teaching method that combines language, music history and music analysis to breathe musical life into a song, arousing the enthusiasm of the audience. The subject of the course is Schumann's Myrthen Song Cycles, which Schumann sent to his bride, Clara. We will focus on the works from a broad perspective, including German pronunciation, German music structure, and music explanation. The class also works as a masterclass, so beginners are welcome to join.
Online Germany Lieder Class & Masterclass- Theme: Shumann's Song Circle Myrthen
【Dates】8~10 Jan. 2022
【Tool】Zoom
【Details and reservation】https://www.annaetsukotsuri.com/german-lieder-workshop2022-1 /https://www.annaetsukotsuri.com/
Meet Up Profile: https://eu-japanfest.org/meet-up/artist/profile/621
#ドイツ歌曲講習会 #マスタークラス #シューマン歌曲#ミルテの花 #釣アンナ恵都子#germanliedclass #masterclass #myrthen #AnnaEtsukoTsuri #schumann #songcircles
---
ミュンヘンを拠点に活動するオペラ演出家釣アンナ恵都子氏がオンラインでのドイツ歌曲講習会を開催!楽曲におけるドイツ語発音などを扱う一方で、ドイツ音楽に関心を持つ幅広い人へ開かれたワークショップになります。ぜひ、詳細をチェックしてくださいね!

★Message from Artist★

バイエルン国立歌劇場の釣アンナ恵都子による、本場のレッスンを身近で体験できる『ドイツ歌曲講習会』をオンラインにて開催。
語学、音楽史、音楽分析を融合し、音楽に命を吹き込み、魂に触れる歌を歌うことを目指す指導法。題材はシューマンが花嫁クララに送った歌曲集「ミルテの花」。ドイツ語発音、ドイツ音楽作り、楽曲解説など、広い視野から作品に取り組みます。後半はマスタークラス形式。初心者の方から参加可能。
オンラインドイツ歌曲講習会&マスタークラス ミルテの花
【日時】2022年1月8~10日
【使用ツール】Zoom
【詳細・申込】https://je-tokyo.com/news-topics/194/
Meet Up Profile: https://eu-japanfest.org/meet-up/artist/profile/621