#MeetArtist! 空間実験室LABO 86B210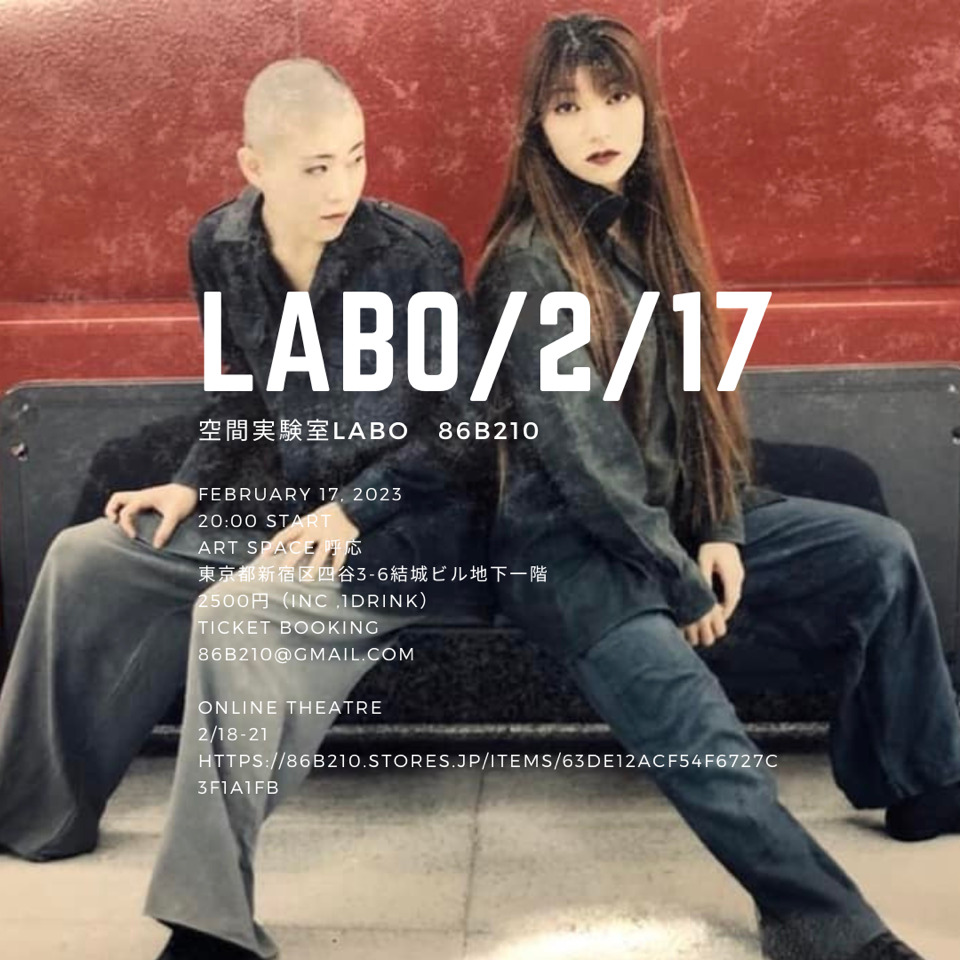 2/17(金/Fri) 空間実験室LABO
86B210 (鈴木富美恵+井口桂子/舞踊)
【Message from Artist】
久方ぶりに相方桂子と一騎打ち。気が付けばここまで旅をしてきました。初めのスタートから沢山の場所に行き、経験し、またこれからも赴いてさまざまな方達と交流を図っていきたいと、初心に帰って一騎打ちです。扉写真は86B210 始まりの時期、中野愛子氏撮影の一枚です。
また仕事で関わっていた劇場の紗幕をいただき、さまざまなメモリーが透けて交錯するような時間になったらと考えています。
LIVEとオンラインシアターで実現いたします。そして次の日から三日間オンラインシアターが幕を開けます。
オンラインシアターもご用意しております、お楽しみください。
会場は充分な換気、消毒を行います。
お客様におかれましてはマスクの着用、エントランスでの手洗いもしくはアルコール消毒をよろしくお願いいたします。
★LIVE
即興舞踊の宴 空間実験室LABO
2/17(金)19:30- 開場 20:00-開演
料金:¥2500 (1ドリンク付き)
チケット予約: 86b210@gmail.com
会場 Art Space呼応
東京都新宿区四谷3-6結城ビル地下一階
86B210(舞踊/鈴木富美恵+井口桂子)
音響/照明 新村貴樹
★Online Theatre
https://86b210.stores.jp/items/63de12acf54f6727c3f1a1fb
---
"LABO"
86B210(dance /Fumie Suzuki + Keiko Iguchi)
"LABO" are held on the third Friday of even numberd month.
It is laboratory of movement.
2023's first "LABO" on 17th, February, Friday.
86B210(dance /Fumie Suzuki + Keiko Iguchi) .
【Message from Artist】
For the first time in a long time, I am united with my partner Keiko. I find myself traveling so far. Since the beginning, I have been to many places and experienced many things, and I hope to continue going there and interacting with many people. I also hope to use the gauze curtains from the theaters I have worked with and make it a time when many memories will shine through and intersect with each other.
If you stay in tokyo, please come to our performance!
★LIVE
Fri, February 17, 2023
Door Open 19:30. Performance Start 20:00
2500yen,(Inc,1 drink)
Ticket reservation to: 86b210@gmail.com
Venue
Art Space Co-oh
B1F, Yuuki Building, 3-6, Yotsuya, Shinjuku, Tokyo
86B210(dance /Fumie Suzuki + Keiko Iguchi)
Lighting/Sound Takaki Shinmura
★Online Theatre
https://86b210.stores.jp/items/63de12acf54f6727c3f1a1fb
---
86B210
86B210:  https://www.86b210.com
Blog: http://dance86b210.blog21.fc2.com
Facebook: https://www.facebook.com/danceavantgardeduo86b210
Instagram: https://www.instagram.com/86b210/
Twitter: https://twitter.com/86b210
Art Space 呼応co-oh: http://www.cooh-studio.com
Meet Up Profile: https://eu-japanfest.org/meet-up/artist/profile/217