#MeetArtist: Theatre Company shelf: Max Frisch 'Biografie Ein Spiel'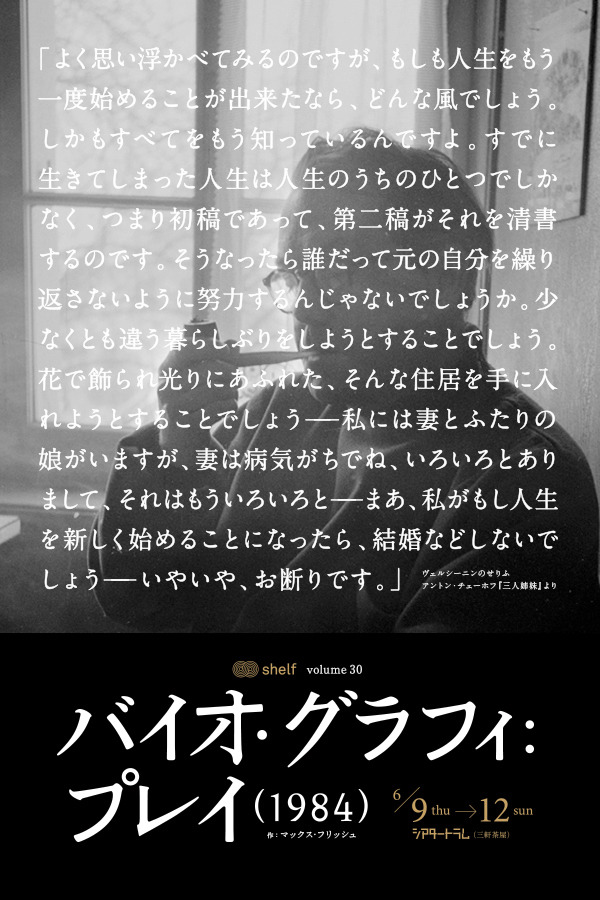 Theatre Company shelf
マックス・フリッシュ「バイオ・グラフィ: プレイ(1984)」
6/9(木)→6/12(日)@シアタートラム
★Message from Artist★
shelfとして、久しぶりの東京公演は、本公演では初のシアタートラムです。また今回は、戦後スイスの作家、マックス・フリッシュの代表作の本邦初訳、初演になります。翻訳は、ルーカス・ベアフース作『20000ページ』にて第八回小田島雄志・翻訳戯曲賞を受賞している松鵜功記。みなさまご多用とは存じますが、お時間が許しましたらぜひ、劇場まで足をお運びください。
【あらすじ】
もし過去の一場面に戻り、そこから改めて行動を選択し人生の記憶を持ったままもう一度生き直すことが出来たならどこで何を選択し、行動すればいいのか。人は別の選択をして別の人生を送ることが出来るのか。人生の選択をやり直す自由が与えられた行動科学の教授ハンネス・キュアマン。演出家が、キュアマンのすでに生きられた伝記をもとに、過去の出来事へと彼を導き、彼に行動を選択させる。キュアマンは選択した場面を舞台上でもう一度演じ、言わば伝記の第二版の作成を試みるのだが…
【企画概要】
舞台上で人生をやり直すための選択の自由を手に入れたにもかかわらず、同じ行動を選択しては失敗を繰り返す主人公キュアマン。しかしその失敗の滑稽さの中に、そして失敗し、演出家に非難されるたびに「もう一度!」と何度も挑戦し続けるキュアマンの中に、彼も気づいていなかった、彼が変化を拒む本当の原因が垣間見えてくる。
フリッシュが分析し描くアイデンティティの在り様や人間同士の関係性など、個々人の個人的で小さな問題から、自己と他者との関係に潜む社会的、政治的で見えない権力に縛られた人間存在が浮かび上がってくる。それは目に見えない社会的、政治的(公衆衛生学的?)な恐怖と権力に縛られるコロナ禍の人間たちをも映し出しているように見える。
今回、shelfではこの戯曲の翻訳をマックス・フリッシュ研究者の松鵜功記氏に依頼し、初の日本語訳を制作した。松鵜氏は、ドイツ語作品の翻訳ではルーカス・ベアフース作『20000ページ』にて第八回小田島雄志・翻訳戯曲賞を受賞している気鋭の翻訳家である。
【スタッフ/キャスト】
作/マックス・フリッシュ
翻訳/松鵜功記
構成・演出/矢野靖人
出演/川渕優子、三橋麻子、沖渡崇史、綾田將一、横田雄平
舞台美術/ 鈴木健介
衣裳/藤田友
照明/則武鶴代
音響/和田匡史
舞台監督/土居歩
宣伝美術/オクマタモツ(956D)
プロデューサー/矢野靖人
制作助手/平沢花彩
制作協力/菅野佐知子(劇団チョコレートケーキ/ノアノオモチャバコ)
企画・制作/一般社団法人shelf
著作権管理/酒井著作権事務所、SUHRKAMP VERLAG
提携/公益財団法人せたがや文化財団 世田谷パブリックシアター
企画・制作・主催/一般社団法人shelf
後援/世田谷区、在日スイス大使館
文化庁「ARTS for the future! 2」補助対象事業
【チケット】
一般:4,500円
学生:2,000円 ※当日要証明書提示
U24:2,000円 ※24歳以下/前売りのみ劇場チケットセンターのみでの取扱い、要事前登録
*障害者割引:4,000円 ※介助者1名無料、劇団のみ取り扱い
*配信チケット(オンラインで視聴する):3,000円 ※公演終了後に配信、期間限定。劇団のみ取り扱い
(全席指定・税込)
【公演日時】
6月09日(木)18:30
6月10日(金)18:30
6月11日(土)14:00
6月12日(日)14:00
※上演時間2時間半を予定(途中休憩有)
【チケット取扱】
世田谷パブリックシアター: https://setagaya-pt.jp/performances/20220306-110766.html
カンフェティ: https://s.confetti-web.com/detail.php?tid=65886
チケットぴあ: https://t.pia.jp/pia/event/event.do?eventCd=2208950
More details: https://theatre-shelf.org/ https://twitter.com/Theatre_shelf
Meet Up Profile: https://eu-japanfest.org/meet-up/artist/profile/298
#マックス・フリッシュ #バイオグラフィプレイ1984
---
Max Frisch 'Biografie Ein Spiel'
Thu 9 Jun – Sun 12 Jun at Theatre Tram
★Message from Artist★
As the Theatre Company shelf, the Tokyo performance after a long absence is that in the Theatre tram. This time, it will be the first translation and premiere of the masterpiece of the postwar Swiss writer Max Frisch in Japan. It was translated by Koki Matsuu, who won the 8th Yushi Odashima Translation Drama Award for "20000 pages" by Lucas Bearhus. We look forward from the bottom of my heart, so please visit the theatre.
[Summary]
If one has a chance to go back to a certain moment in the past, choose a new course of action from it and live again with the memories of one's life, where and what should be chosen and acted upon? If a different choice is made, would it be a different life? Hannes Cureman, a professor of behavioural science, is given the freedom to redo his choices of life. The director leads Cureman back to past events, based on his already lived biography, and lets him make the decision over. Cureman attempts to re-enact the chosen scenes on stage, creating a second version of his biography, as it were…
[Overview]
Despite having the freedom of choice to start his life over on stage, Cureman repeats his failure by choosing the same course of action. But we find the hilarity in his failures, as well as the real cause of his refusal to change, of which even he is unaware, over the time he tries "Again!" after getting accused by the director.
From the personal and slight issues of each individual, such as the nature of identity and the relationships among the community that Frisch analyses and portrays, a glimpse of a human existence bound by social, political and invisible power in the relationship between the self and the other emerges will be found.  It can be considered as the reflection of the human beings throughout the corona period, who are bound by invisible social and political (and also public health,
perhaps) fears and power.
The Theatre company shelf commissioned Max Frisch scholar Koki Matsuu to translate this piece into Japanese for the first time translation.
Matsuu is an award-winning German-Japanese translator of the 8th Yushi Odajima Drama Award for Translation for his translation work of '2000 Pages' by Lukas Bæhrfuss.
[Artistic / Cast]
Created by / Max Frisch
Translation / Kouki Matsuu
Director/  Yano Yasuhito
Cast / Yuko Kawabuchi, Mako Mitsuhashi, Takashi Okito, Shoichi Ayada, Yuhei Yokota
Scenery / Kensuke Suzuki
Wardrobe / Tomo Fujita
Lighting / Tsuruyo Noritake
Sound / Masashi Wada
Stage Manager / Ayumi Doi
Promotion Visuals / Tamotsu Okuma (956D) Producer / Yano Yasuhito Production Assistant / Kaya Hirasawa Production Cooperation / Sachiko Kanno (Chocolate Cake Theatre Company /  Noano Omochabako) Planning, Production / shelf Assosiation Copyright Management / Sakai Copyright Office, SUHRKAMP VERLAG Affiliation / Setagaya Public Theatre, Setagaya Cultural Foundation Supported by / Setagaya Ward Office, Embassy of Switzerland in Japan Agency for Cultural Affairs "ARTS for the future! 2" subsidized project
[Ticket]
Adult: 4,500 yen
Student: 2,000 yen (ID required)
U24: 2,000 yen *Under 24 years old / advance sales only at the Theatre Ticket Centre, registration required.
*Disabled discount: 4,000 yen *One free ticket for a carer. Reserved only by the theatre company shelf.
*Online stream: 3,000 yen *Distributed after the performance, limited period only. Reserved only by the theatre company shelf.
(All seats reserved, tax included)
[Schedule]
09 Jun (Thu) 18:30
10 Jun (Fri) 18:30
11 Jun (Sat) 14:00
12 Jun (Sun) 14:00
Run time for 2.5 hours (with an intermission).
[Ticket sales]
Setagaya Public Theatre: https://setagaya-pt.jp/performances/20220306-110766.html
Confetti: https://s.confetti-web.com/detail.php?tid=65886
Ticket Pia: https://t.pia.jp/pia/event/event.do?eventCd=2208950
More details: https://theatre-shelf.org/ https://twitter.com/Theatre_shelf
Meet Up Profile: https://eu-japanfest.org/meet-up/artist/profile/298