#MeetUpNews Vol. 20
#MeetArtist
ASK OPERA THEATER
OPERA GALA CONCERT &"BAR FIGARO's (based on "Le Nozze di Figaro" by Mozart)"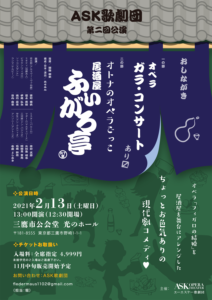 Date&Time: Saturday, 13 February 2021 / 13:00 (Entry 12:00)
Venue: Mitakashi Kokaido (Mitaka City Public Hall) Hikari no Hall
Admission fee: JPY4,999 (Pre-school children not admitted)
Tickets on sale: https://www.confetti-web.com/detail.php?tid=59388&
Cast and Staff
Il Conte di Almaviva – Yasushi MUROMACHI, La Contessa di Almaviva – Miki TOMINAGA, Figaro – Hiroyuki HIRAO, Susanna – Soko ASAKAWA, Cherubino – Yoshiko HINATA, Bartolo – Fumihiko SHIMURA, Marcellina – Etsuko KURYU, Don Basilio – Takamitsu ASEMI, Don Curzio – Yoshinobu ISHIZUKA, Antonio – Yoshiaki YOZA
Conductor – Koji MOROYU
Script and Stage direction – ASEMIN
Lighting – Keiichiro ITO
Music: ASK OPERA THEATER ENSEMBLE with Olivia
Contact: ASK OPERA THEATER fledermaus1102@gmail.com
Details: https://www.facebook.com/ASK-%E6%AD%8C%E5%8A%87%E5%9B%A3-112697027315383
ASK OPERA THEATER was established by members with a variety of backgrounds and full of passion for music. Its 1st performance which featured an operetta "Die Fledermaus" by Johann Strauss II was held last year and it gained a lot of favorable reviews. The 2nd performance with new casts will be held on 13 February 2021. Keep your eyes on it!
★Message from Artist★
With our original casts ASK OPERA THEATER present Opera performances easy to understand and enjoyable. Our next performance consists of Gala Concert and our Original Version of Mozart's "Le nozze di Figaro (Marriage of Figaro)" called "Bar Figaro's".
Profile on Meet Up ECoC!: https://eu-japanfest.org/meet-up/artist/profile/173 (Mr. Yasushi Muromachi)
---
Kaori Kato / Fold + Photography- Exploring the seasons in Tokachi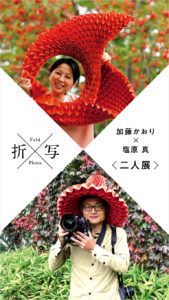 Dates: 26 (Thu.) Nov. – 1 (Tue.) Dec. 2020 / 10:00 am-6:30 pm *till 4:00 pm on the last day
Venue: KACHIMAI Salon (7F Fujimaru Department Store, Obihiro, Hokkaido)
Artist Ms. Kaori Kato, who participated in the European Capital of Culture Riga 2014 (Latvia) and Matera 2019 (Italy), will have an exhibition with Photographer Mr. Makoto Shiohara! This time, they worked together for the calendar of Tokachi Mainichi Newspaper and new collaborative creations and their works will be exhibited. Please check it out!
★Message from Artist★
It was my first challenge to express 12 months of Tokachi with modern art works. We hope that you can enjoy the colourful 12 months of Tokachi, created with the photographer's dual sensibilities at the gallery space.
We will introduce the views at the exhibitions on SNSs.
Instagram ID➡https://www.instagram.com/kaori_kato_artist/
Facebook ID➡https://www.facebook.com/kaori.visualart
Profile on Meet Up ECoC!: https://eu-japanfest.org/meet-up/artist/profile/185
---
#MeetECoC

We introduce activities in each ECoC as #MeetECoC on the page of "News" within Meet Up ECoC!
This week, we feature activities in European Capitals of Culture 2024 – Tartu (Estonia), Salzkammergut (Austria), and Bodo (Norway).
Click here!: https://eu-japanfest.org/meet-up/news/3337.html