#MeetUpNews! Vol. 25
#MeetArtist
AKiko Kitamura / "Echoes of Calling" Online Streaming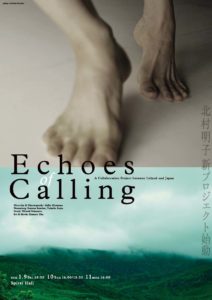 Dates:13:00 on 23 January – 23:59 on 29 January 2021
Tickets:https://eplus.jp/sf/detail/3363720001-P0030001P021001?P1=1221
"Echoes of Calling," a performance project of Galway 2020, goes on online! Given that the situation with the COVID-19, the performances at the Spiral Hall have been canceled, unfortunately. However, the online streaming of this project will take place as planned! This project has had meetings, kickoff events, and online workshops, and a contemporary dancer Ms Akiko Kitamura and collaborators both from Japan and Ireland are working together for the performance. Please check out their performance online!
★Message from the artists★
Echoes of Calling is a performing arts project that is part of a long-term international collaboration, which advances from Ireland to central Asia.
How will Celtic traditional culture and Japanese traditional physical expression and sounds, which are intangible, speak to our memories?
How will it be possible for something traditional and current to relate to each other past their differences in forms of expression, cultures, nationalities, and languages?
We travel across "cultures of lands", which tend to become obscured by globalizing societies, in time and in space for a pulse of traditional cultures and to create a dance that opens to the future.
We have taken on "prayers" of communities, which have a strong connection to humans coexisting with nature in changing natural environments, as a modern theme, embodying natural rhythms, breathing, and echoes of voices that transcend languages in dance, leading to a hope that we are coexisting with something that is beyond us.
Profile on Meet Up ECoC!:https://eu-japanfest.org/meet-up/artist/profile/264
---
Ensemble Sonne / "Song of Innocence"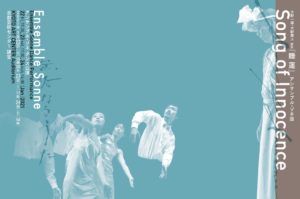 Date & Time (JST): 22 January, 2021 (Fri) 19:30-
23 January, 2021 (Sat) 17:00-
24 January, 2021 (Sun) 14:00-
Venue: Kyoto Art Center Auditorium
Tickets: Adults 3,000 yen / Students 2,000 yen / *Day Ticket: 3,500 yen for adults and students
Ensemble Sonne is a Kobe-based contemporary dance company established in 1993. The company actively delivers creations and performances of dance/performing arts works in Japan and abroad, including a performance at the European Capital of Culture Mons 2015 (Belgium). This time, the company will reveal new work in Kyoto! Let's check it out.
★Message from Artist★
Ensemble Sonne is a dance company based in Kobe. Our new piece "Song of Innocence" will be performed again in Kyoto. For further English information, please contact us! (ensemblesonne@gmail.com)
Special website for the performance: https://songofinnocence.jimdofree.com
Facebook: @ensemblesonne
Instagram: @EnsembleSonne
Twitter: @ensemblesonne
Profile on Meet Up ECoC!: https://eu-japanfest.org/meet-up/artist/profile/266 
#ensemblesonne #songofinnocence #無垢なるうた
---
#MeetECoC

We introduce activities in each ECoC as #MeetECoC on the page of "News" within Meet Up ECoC!
This week, we introduce 3 cities of the European Capitals of Culture in 2021 which also expands activities to 2022 and 2023.
https://eu-japanfest.org/meet-up/news/3490.html
We continue to introduce activities in each ECoC in 2021!
Please keep your eyes on the page.