#MeetArtist: 空間実験室LABO 86B210 Performance in October!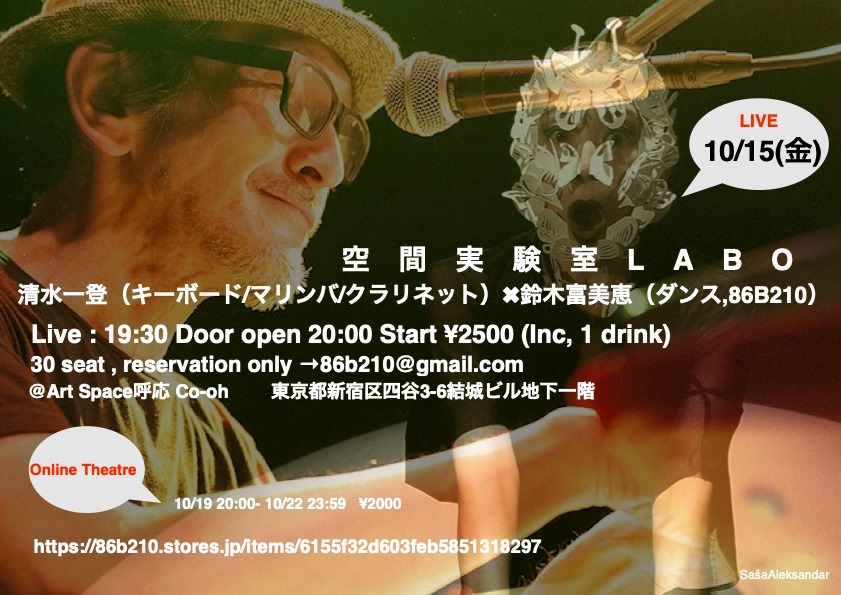 Fumie Suzuki of 86B210 continues her monthly sessions "LABO" with guests from a variety of genres. This time she welcomes musician Mr Kazuto Shimizu to the LABO for a session that you can enjoy both at the venue and online! Please check it out!
★Message from Artist★
Our next LABO performance will be held on October 15th at 20:00, with Pianist Kazuto Shimizu, and 86B210 Dancer Fumie Suzuki, at COOH.
If you would like to come in person, please contact us!
These tickets are for our Online Theater, to see the online version of the performance.
The Online Theater will be viewable from October 16 (open 20:00 ) through October 19 (until 23:59).
We hope you will be able to enjoy the performance, whether in person or online!
 LABO – Kazuto Shimizu (Piano)✖︎Fumie Suzuki (Dance, 86B210)
【Dates】15 Oct. 2021 at 20:00
【Ticket Reseravation】mail to: 86b210@gmail.com
*30 seats only, first come first served


Online Theatre 16-19 Oct. 2021
【Information】https://86b210.stores.jp/items/6155f32d603feb5851318297
Meet Up Profile: https://eu-japanfest.org/meet-up/artist/profile/217
#collaboration # laboratory #labo #artspacecooh
---
毎月さまざまなジャンルからのゲストを迎えてセッションを継続している86B210の鈴木富美恵氏。今回のセッションは音楽家・清水一登氏を迎えてのLABO。会場でも、オンラインでも、ぜひお楽しみください! 
★Message from Artist★

10月の空間実験室LABOはピアニスト、キーボード、他諸々自在の清水一登氏とセッション。大胆さと繊細さが同居する清水氏是非ライブを体感してください!
緊急事態宣言は解除となりましたが、キャパ60%の限定30名様御予約制で行います。会場にお越しになれないお客様にはオンラインシアターをご用意しております。翌日16日よりオープンいたします。どうぞこちらでお楽しみください。
空間実験室LABO
清水一登(キーボード/マリンバ/クラリネット)✖︎鈴木富美恵(ダンス, 86B210)
【日時】2021年10月15日 20時
【予約方法:メール】86b210@gmail.com


オンラインシアター(16日~19日)
【チケット】https://86b210.stores.jp/items/6155f32d603feb5851318297
Meet Up Profile: https://eu-japanfest.org/meet-up/artist/profile/217