#MeetArtist!  86B210 空間実験室LABO+ 神社セッション
鈴木富美恵氏率いる前衛舞踊デュオ、86B210が定期的に開催している「空間実験室LABO」。8月は、LABO+として、その一歩先のパフォーマンスをお届け!ぜひお運びください!!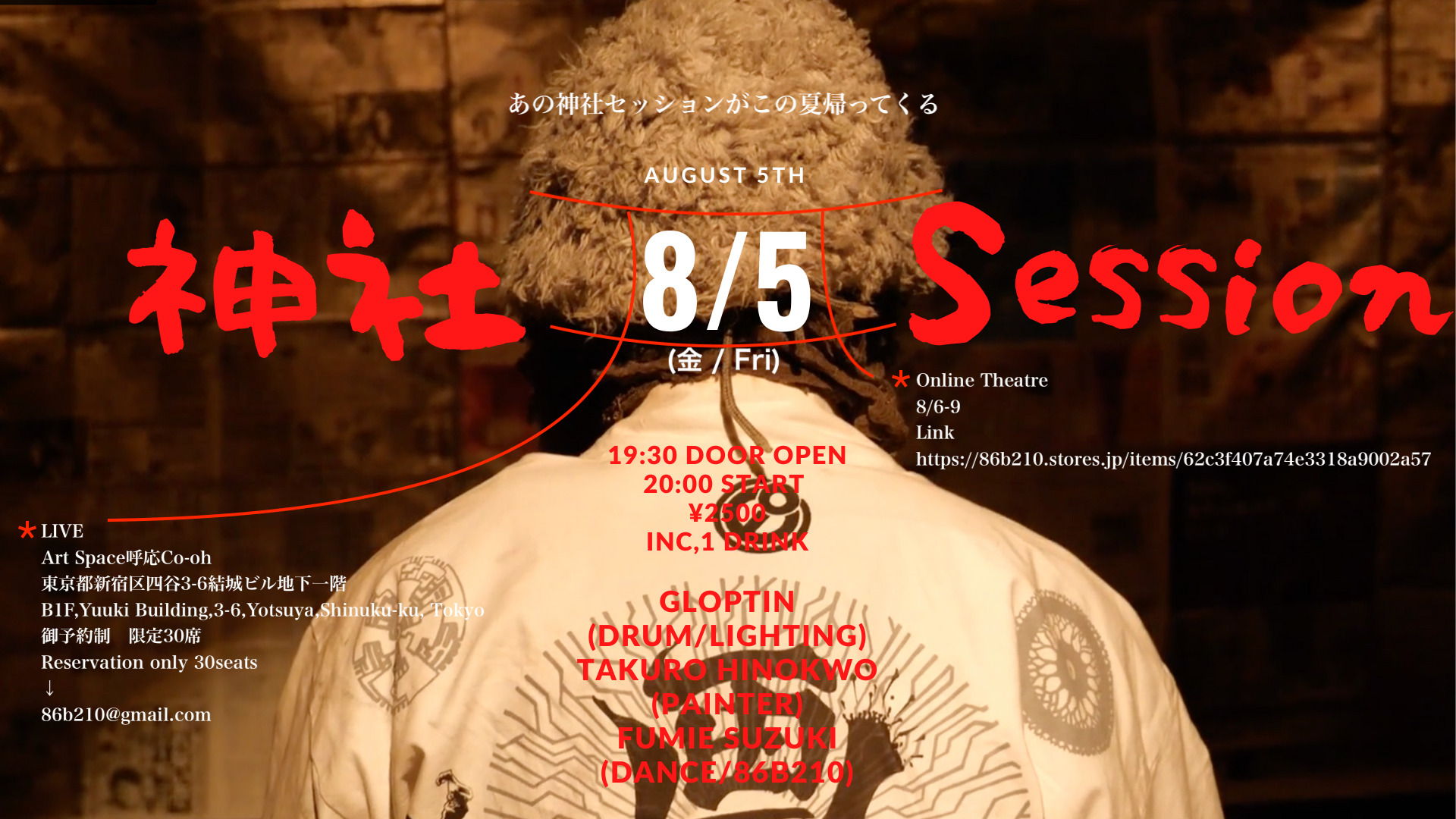 86B210:空間実験室LABO+ 神社セッション
◆LIVE PERFORMANCE
日程:2022年8月5日(金)
Door open:19:30
Performance Start: 20:00
2500yen (Incl. 1 drink)
会場:Art Space呼応Co-oh
新宿区四谷3-6結城ビル地下一階
◆Online Theatre
https://86b210.stores.jp/items/62c3f407a74e3318a9002a57
日程:2022年8月6日~9日
【Message from artist】
空間実験室LABOより生まれた種を育てる、その一歩先へ、のシリーズ、LABO+。
8月神社セッション!!
人間の根源的な祈りとかそんなものを個人的に感じるGloptin、幻想的なペイントで奥底に問いかけるHinokwo、そして私。世知辛い世の中を少しでも光を見出すべく、地下神社が現れます。平和への祈り、そして夏の雷にも似た厄払い的セッション。キャパ60%の30名限定、御予約制です。
---
86B210, an avant-garde dance duo led by Fumie Suzuki, has been regularly holding "Space Laboratory LABO", and in August, they will take the performance one step further as LABO+! Please come and join!
86B210:"LABO+" Jinja Session
◆LIVE PERFORMANCE
Date: Friday, August 5, 2022
Door Open :19:30.
Performance Start
: 20:00 2500yen (Incl. 1 drink)
Venue: Art Space Co-oh
B1F,3-6,Yuuki Bldg,3-6,Shinjuku-ku,Tokyo
◆Online Theatre
https://86b210.stores.jp/items/62c3f407a74e3318a9002a57
Date: August 6-9, 2022
【Message from artist】
Our next "LABO+" performance will be held on Friday, August 5.
The performance will be a collaboration with the percussionist, gloptin and Painter,Takuro Hinokiwo.
If you will be in Tokyo, please come to our performance!
30seats, reservation only.
We look forward to meeting you then.
For those who can't attend in person, we will also be offering an Online Theatre version of the performance from Augst 6 – 9. Please enjoy!
More details: https://www.cooh-studio.com/event-details/kukanjikkenshitsulabo-jinjasesshon
Meet Up Profile: https://eu-japanfest.org/meet-up/artist/profile/217
#空間実験室LABO #神社セッション